Mindahome in the news
2019 - October 12th - Realestate.com.au
https://www.realestate.com.au/news/house-sitting-aussies-ditching-rental-homes-and-saving-thousands/
2019 - October 11th - ABC.net.au
https://mobile.abc.net.au/news/2019-10-11/housing-affordability-younger-australians-buying-australia-talks/11549210
2019 - July 27th - News.com.au
https://www.news.com.au/finance/money/moneysaving-travel-tips-to-help-you-holiday-on-a-shoestring/news-story/9c6ba47682110a94c3299fe82ecfee09
2019 - February 13th - The Age
https://www.theage.com.au/national/victoria/the-house-sitter-who-s-lived-in-100-homes-in-three-years-20190212-p50xbl.html
2019 - January 6th - HeraldSun
https://www.heraldsun.com.au/moneysaverhq/how-we-packed-up-our-rental-and-quickly-saved-a-house-deposit/news-story/4a289948feb15f8797e6c1faa4dd7d5d
2018 - November 30th - Travelling Solo
https://travellingsolo.com.au/destinations/live-like-a-local-for-free-as-a-house-and-pet-sitter
2018 - November 19 - Aus and NZ Fairfax Community Newspapers
Liverpool Champion - https://www.liverpoolchampion.com.au/story/5716665/house-sitting-with-benefits/?cs=12838
Ballarat Courier - https://www.thecourier.com.au/story/5716665/house-sitting-with-benefits/?cs=24
Wellington Times - https://www.wellingtontimes.com.au/story/5716665/house-sitting-with-benefits/?cs=11953
Mandurah Mail - https://www.mandurahmail.com.au/story/5716665/house-sitting-with-benefits/
Esperance Express - https://www.esperanceexpress.com.au/story/5716665/house-sitting-with-benefits/?cs=24

and many others
2018 - February 16th - Illawarra Mercury
http://www.illawarramercury.com.au/story/5233543/from-double-bay-to-dapto-illawarra-man-embraces-house-sitting/
2017 - December 4th - Daily mail UK
http://www.dailymail.co.uk/femail/article-5142597/Nita-Paterson-house-sitter-saved-20-000-house-deposit.html?ITO=1490&ns_mchannel=rss&ns_campaign=1490
2017 - December 3rd - News.com.au - Aussies saving big by house-sitting and looking after pets
http://www.news.com.au/finance/money/wealth/aussies-saving-big-by-housesitting-and-looking-after-pets/news-story/a9333e20b70758028e9fefbf1c82f0ee
2017 - November 25 - Talking lifestyle
https://www.talkinglifestyle.com.au/podcast/pet-care-over-christmas/
2017 - October 27th - Home and Holiday - How to keep your pets safe whilst you travel
https://omny.fm/shows/home-and-holiday/how-to-keep-your-pets-safe-whilst-you-travel
2017 - July 10th - Domain.com.au
https://www.domain.com.au/news/house-sitting-will-save-you-money-but-be-prepared-for-awkward-situations-20170710-gx653f/
2017  - June 10th - Realestate.com.au
http://www.realestate.com.au/news/sydney-homebuyers-saving-on-rent-by-house-sitting/
2017 - March 9th - Omny.fm Lifestyle radio  - Dr Joanne Righetti knows pets better than anyone.
https://omny.fm/shows/lifestyle-pets/look-after-a-pet-for-free-rent
2017 - February 27th - The Daily Telegraph
http://www.dailytelegraph.com.au/moneysaverhq/house-sitters-saving-up-to-25k-a-year/news-story/dbc2f7ce232e964987af068f37dc2d6c
2016 - December 15th - The Daily Mail (Australia)
http://www.dailymail.co.uk/femail/article-4034738/Professional-pet-sitter-lives-rent-free-saving-house.html
2016 - December 2nd - Traveller.com.au
http://www.traveller.com.au/the-holiday-heist-why-parents-are-forced-to-take-kids-out-of-school-gsz05h
2016 - December 4th - Blacktown Sun
http://www.blacktownsun.com.au/story/4332690/the-holiday-heist-why-parents-are-forced-to-take-kids-out-of-school/?cs=34
2016 - August 5th - Daily Telegraph
http://www.dailytelegraph.com.au/news/save-50000-for-your-own-home-by-living-in-someone-elses/news-story/6a498982b0df86bf89de72ec8c13a8ea
2016 - April 26th - Courier Mail
http://www.couriermail.com.au/realestate/news/brisbane-qld/brisbane-rates-as-severely-unaffordable-by-new-survey/news-story/4ba4dbb1a9a3048f1e73c30bc4147592
2016 - March 25th - Domain.com.au
https://www.domain.com.au/news/competition-for-housesitting-on-the-increase-20160316-gnkx32/
2016 - February 27th - Domain.com.au
https://www.domain.com.au/news/first-home-buyers-using-house-sitting-to-save-deposits-20160226-gn3dco/
2015 - March 13th - Traveller.com.au
http://www.traveller.com.au/airbnb-family-holidays-take-another-life-for-a-test-drive-143ide
Channel 9 Mornings Show - 3rd March 2015
Daily Telegraph - 1st March 2015

Yappy Hour TV - Channel 31. 14th November 2014
The Today Show. 25th January 2014
Daily Telegraph - 24th January 2014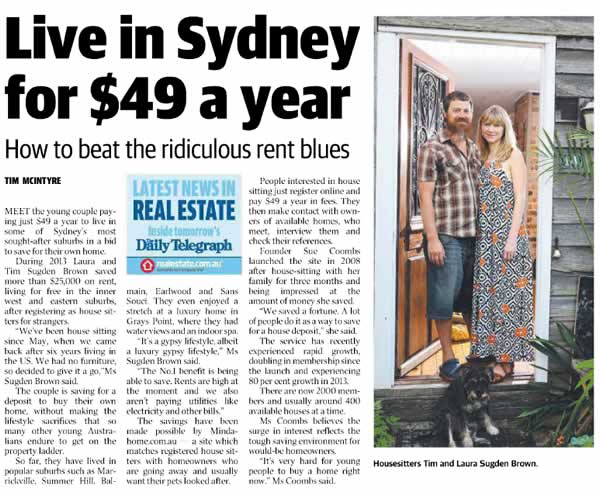 News Limited - (News.com.au). 17th January 2014

The Herald Sun. Jan.13, 2014

The Gold Coast Bulletin. Dec. 21, 2013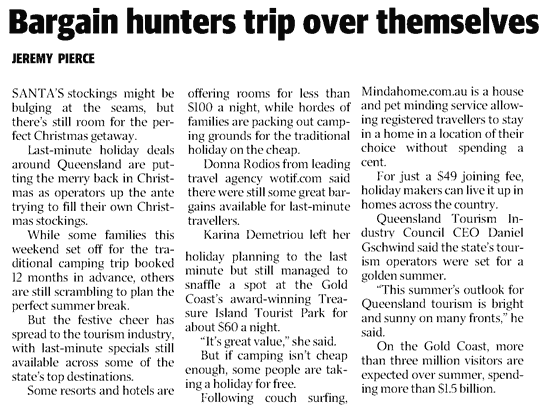 6PR Radio Perth. Nov. 5, 2013
Steve Mills interviews Sue Coombs of Mindahome.
Click the green button to hear the interview: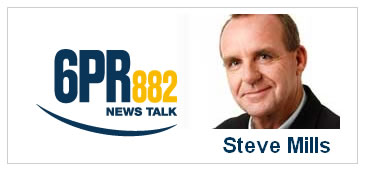 The Sydney Morning Herald. Nov. 4, 2013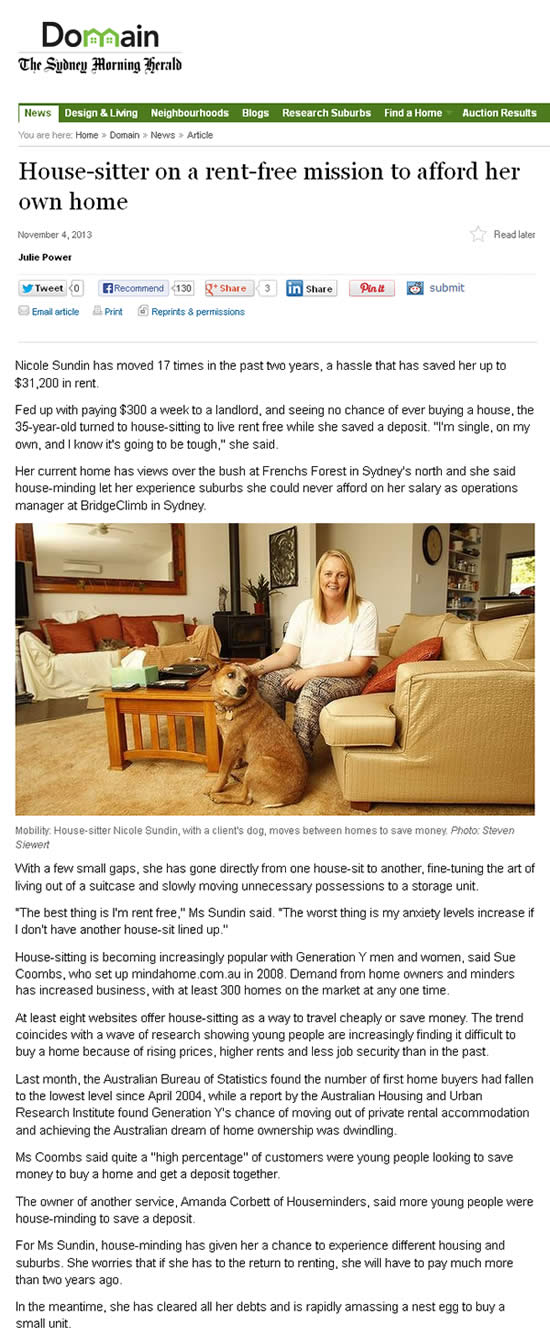 The Sun Herald. Oct. 27, 2013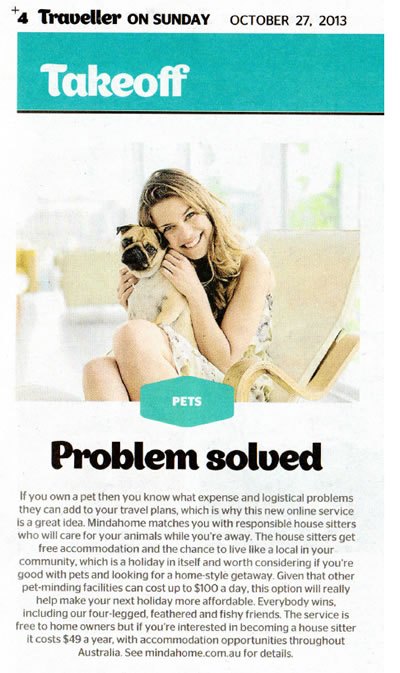 That's Life magazine. Oct. 18, 2013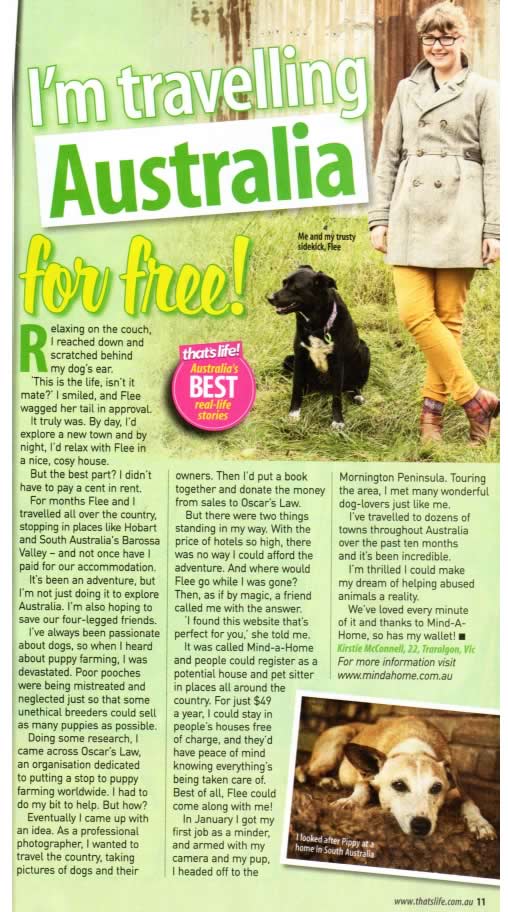 The Age Oct. 7, 2013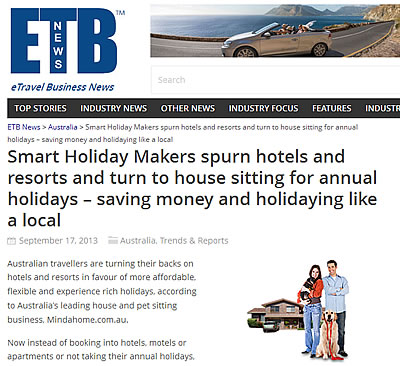 eTravel Business News.
Sept. 17, 2013
Smart Holiday Makers spurn hotels and resorts and turn to house sitting for annual holidays – saving money and holidaying like a local
MindahomeAustralian travellers are turning their backs on hotels and resorts in favour of more affordable, flexible and experience rich holidays, according to Australia's leading house and pet sitting business, Mindahome.com.au.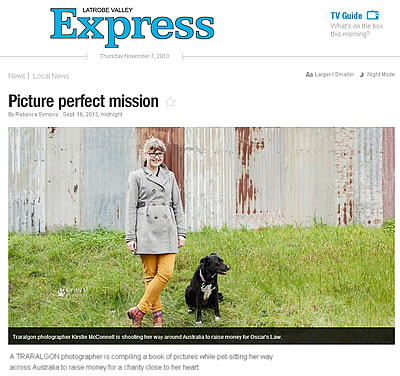 Latrobe Valley Express.
Sept. 16, 2013
A TRARALGON photographer is compiling a book of pictures while pet-sitting her way across Australia to raise money for a charity close to her heart.
Animal advocate Kirstie McConnell has taken on the task of using her photographic talent to raise money for Oscar's Law, an organisation which spreads awareness of puppy farms.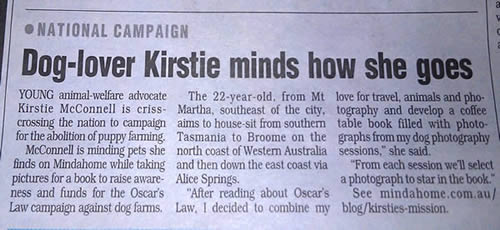 MX News.
Sept. 9, 2013
Dog lover Kirstie minds how she goes.