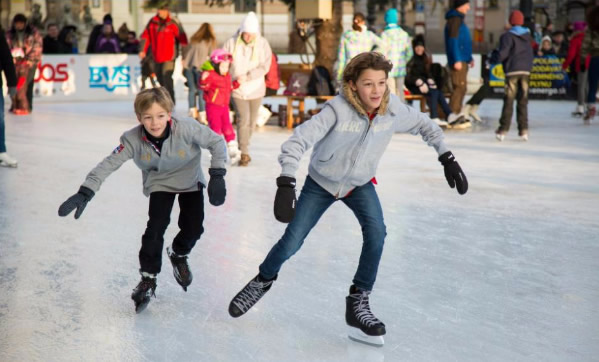 Australians have a remarkable sense of curiosity that attracts us to new life experiences or opportunities to live life in someone else's shoes.
So many Australians are drawn to the house and pet sitting lifestyle every year – whether for a short break away or for extended periods – all because it offers great opportunity to get off the usual tourist trail to discover more about the places you visit.
For those with an adventurous spirit and willing to try something new, here's four of our favourite comfort zone pushers worth ticking off your bucket list this winter.
Ice Skating
Gliding across ice on skates is probably not something that comes naturally to many Australians, but with many full time and pop-up ice rinks on hand around the country, everyone gets to imagine they're skating across a frozen lake somewhere in the Northern Hemisphere. Just some of the ice rinks that are welcoming skaters of all abilities around the country include, Phillip Ice Skating Centre in the ACT, Macquarie Ice Rink in NSW, Darwin Ice Skating Centre in the NT, Iceworld in QLD, Cockburn Ice Arena in WA, IceArenA in SA, Glenorchy Ice Skating Rink in TAS, and the Olympic Ice Skating Centre in VIC.
Rural Living
A majority of Australia's population live in the city centres where life is fast-paced, full of people and places to see and things to do. Today, schools are incorporating lessons and resources to educate students about where their food comes from, how it's grown and how it is processed and packaged into products that we buy at the supermarket. Wouldn't it be better to show them the real thing? By house and pet sitting a rural property, many people get the opportunity escape the city to live like a local and try farm life. Putting down screens and making some new fur-friends, could be the best experience you could ever have.
Winter Ocean Swimming
If you consider yourself a bit of a trend-setter, a dare- devil and even a little crazy, then dipping your toes in the icy blue ocean during winter could peek your interest. Winter ocean swimming isn't for everyone, even if you are a strong swimmer, but those who do it say that it is invigorating and energising and gives you a great kick for the day. There's a whole association that coordinates regular winter swim meets throughout winter, so if you're game, find your nearest club and take the plunge!
Thermal Baths
If being in the water is one of your life loves, but plunging into 2 degree ocean water isn't really your thing, then thermal baths could be a comprise this winter. Surprisingly, there are many dotted around Australia welcoming many visitors. The Peninsula Hot Springs in Victoria presents many options including spring pools, outdoor baths and cave pools. The Bitter Springs in Katherine, NT offer an almost untouched natural experience with some of the resident waterhole creatures also impressing visitors. The Witjira National Park is situated on the edge of the Simpson Desert in the far North of South Australia and offers over 120 springs to enjoy while surrounded by natural greenery and wildlife.
So if you're ready to test your limits with new experiences this winter, get to it and glide, farm, plunge or soak into your next adventure.