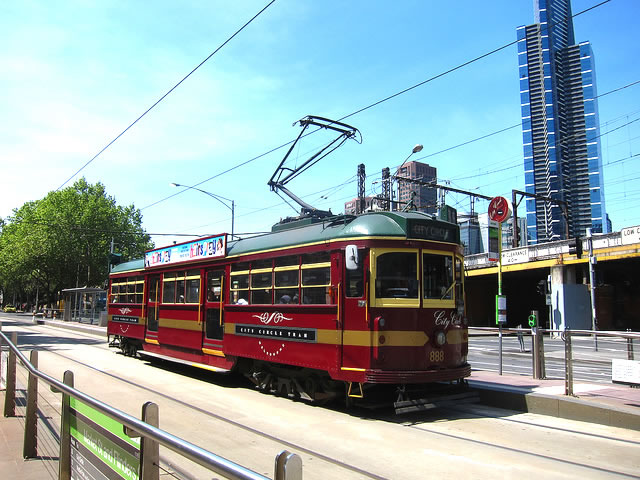 From the heights of the eucalyptus-scented Dandenong Mountains to the emerald green expanses of the Yarra Valley, Victoria is one of Australia's most stunning states. You can save money on renting property in Victoria by choosing to housesit, and will find a wide range of accommodation types available to suit your needs. Although Melbourne can be as pricy as any major metropolitan area, there are also many sights that are free of charge. This means that enjoying your time in Victoria doesn't have to break the bank.
Free Melbourne Attractions
One of the highlights of Victoria is its cosmopolitan capital city, Melbourne. You'll find no shortage of slick boutiques and fashionable lounges to spend your money in, but the city also boasts plenty of attractions that don't cost a cent. The quaint City Circle Tram is a good way to see the city for free, allowing you to hop on and off as many times as you wish. Another great way to see all that Melbourne has to offer is to explore its narrow European-style streets on foot, particularly around Flinders Lane and Brunswick Street.
Many top-notch museums in Melbourne are free to visitors, including the National Gallery of Victoria. This is the oldest public art museum in Australia, with fascinating collections spanning ancient Roman times to present-day contemporary pieces. The Ian Potter Centre focuses on Australian art, with an extensive Aboriginal collection.
If you're housesitting in Melbourne and want to explore the city's famed gourmet food scene, there's no better way to do it than by visiting its markets. Queen Victoria Market is filled to the brim with exotic spice stalls and fresh produce, while St. Andrews Market is ideal for people-watching. You can make the most of Victoria's often mild weather in Melbourne's green spaces, including the Royal Botanic Gardens and the miniature wonderland of the Fitzroy Gardens.
Wallet-Friendly Day Trips
One of the most enticing pastimes in Victoria is taking a drive down the Great Ocean Road, which hugs the coastline and provides some truly spectacular ocean views. You can plan on stopping to view sights including scenic Apollo Bay and the rugged Twelve Apostles rock formations. Pack a picnic, and all you'll need to pay for is petrol and the cost of a rental car.
If you have access to a bike, cycling is also a pleasurable pastime throughout Victoria. Some of the most interesting trails are situated along old railway lines, including the Bellarine and East Gippsland rail trails. Cycling through the Yarra Valley is a budget-friendly alternative to taking an organized wine tour. You can visit the valley's famous wineries at your leisure, participating in tastings and taking home a bottle or two at a winery discount.
Animal lovers will want to pay a visit to Phillip Island during their housesitting stay. Located about two hours outside of Melbourne, this island is home to a colony of penguins who famously parade around every day like clockwork. You'll also find seals, a koala conservation centre, and an array of marine life.
If you're housesitting in Victoria, you'll be spoilt for choice when it comes to sightseeing. Better yet, many of these natural and urban sights alike are free of charge, meaning you'll have money left over for traveling further afield.
Rachel MacDonald is a freelance writer specializing in travel and home design. She also works on behalf of Homesales, Australia's leading source of property listings.