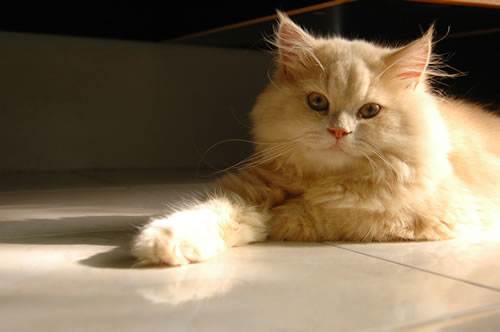 The Mindahome house and pet sitting service is all about connecting home owners with the right house and pet sitters and it's always good to hear about stories where a perfect match was made.
Danielle's feline friend, Miss Ivy, didn't like being alone and her health and emotional well being had suffered from a previous stay in a cattery. So Danielle signed up for a house and pet sitter and found, what she describes, as 'an Ivy Angel'.
For the four weeks that Danielle and her family were away, they received regular text messages about how Miss Ivy was coping and when Danielle returned, they came home to a happy cat and immaculate home.
"Emma (our Ivy-Angel) was the most perfect fit for our needs. She was affable, friendly, easy-going and, most of all, Miss Ivy liked her. Our 'human-phobic-kitty' smooched her, rubbed up against her and purred like a V8!"
A majority of our home and pet owners think about their pets at least once a day when they are separated, so they want to know that they are in the good hands of a companion that will care for them just as their owners would.
Different animals can react differently to being left in a boarding facility, but stress and sometimes illness can be a result of a boarding stay.
Leaving your pet in your own home environment could be the answer to reducing your pet's anxiety and give you peace of mind for a more enjoyable trip.
Read Danielle's full story below:
We have a rescue cat, who does not handle being alone at all well.  Miss Ivy was rescued through Cat Protection Society in NSW – she had been dumped, and was desperately needing a home.  Not long after we adopted her, we moved interstate, and had to put her into a cattery while we got settled, at which point she was flown to QLD.
While she was in the cattery, she started to show serious anxiety – she would constantly clean herself, and ended up with some bald patches of skin because of this.  She was NOT a happy kitty at all.  As a result, Miss Ivy has a lot of issues with new people, and will hide in the smallest spot to avoid being petted. She is "human intolerant", "canine intolerant", "feline intolerant"….pretty much "everything in the world intolerant".
This year, my family had planned go to Cape York (Far North QLD) and I realized that we would need to do something to help Miss Ivy cope.  There was no way that I was going to inflict another cattery visit on her, and began to look for House Sitters – which is where Mindahome comes into this story.
I looked through all the profiles, narrowed it down to a few interesting people, and then decided on a lady who I can only describe as an Ivy-Angel!!  I was amazed and thrilled at the amount of information I could see online, and the fact that I could choose the option to only look at people with Federal Police checks – this was the added peace of mind I really needed!
Emma (our Ivy-Angel) was the most perfect fit to our needs.  Affable, Friendly, Easy-Going….but most of all…Miss Ivy liked her!  Our "human-phobic-kitty" smooched her, and rubbed up against her, and purred like a V8!
During our holiday, we got regular texts from Emma updating us on how Ivy was going, and I don't know who enjoyed who's company more!!  Ivy would always be "curled up next to me", or "curled up in my lap".  I was starting to wonder if Ivy would want to go with Emma when we got home!
After 4 ½ weeks, we returned to Brisbane, and to an immaculate house, and a HAPPY CAT!  Who could honestly ask for more?
Update – not long ago, a friend of mine was going away for a couple of weeks, and guess what…..EMMA is sitting for them now!
I cannot begin to tell you how impressed we were with the service you offer, OR with the calibre of house sitters you have listed.  We will ask Emma back, any time we go away now, and if she is busy…I'll darn well change our holiday dates to make sure we can have her.
Kind Regards
Danielle