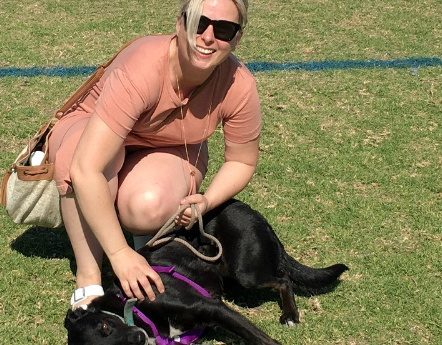 Pet Sitter Profile: The Pet Bestie + House Whisperer
Seasoned house and pet sitter, Rebecca, has bucket loads of positivity and her experience in pet sitting will set your mind at ease knowing that your fur-kids are in good hands. Confident in caring for cats, dogs and farm animals, Rebecca will make the ideal fill-in pet-parent the next time you have to travel.  
What has been your favourite pet sitting experience and why?
This is one is EASY! That would have to be when I sat for a quirky doggy called Oscar (An Elderly English Cocker Spaniel) in the burbs of Brisbane. Not only do I consider his owners friends of mine but Oscar had a "Zoolander" (Hilarious movie starring Ben Stiller & Owen Wilson) quirk where he would only turn left. So to go right, he had to go left first. He was a sociable doggy and could play ball for dayssssss. Oscar's home and neighbours made my stay very comfortable as well with many comforts.
What is your top tip for caring for cats?
I struggled with this earlier in the year as I was looking after what I call "a cat with 'tude" who had a VERY hard boundary….Be patient and let them accept YOU into THEIR world. Know their limits and ensure you play with them to create a bond between you. Less expensive toys are the best. (Think the "O" ring from yoghurt tubs or honey tubs. I went all out and treated one cat to fancy toys from a pet shop only for her to enamoured with a cheapy from the pet aisle at the supermarket.
If you could choose anywhere in Australia to house and pet sit, where would it be and why?
House and pet sit ANYwhere in Australia? Ohh, I did struggle to come up with for this question but I would love to look after a fun doggy that enjoys to walk and play catch in a gorgeous beach town (Think Noosa, Sorrento) or looking after some chooks and a cottage in a hinterland getaway at Byron Bay wouldn't go astray either.
Your top tip for home and pet owners.
My top tip would have to be what I do for every sit and that is print off the Mindahome House Sitting Guide which also contains the Mindahome House Sitting Agreement at the end. It contains many points that I as a seasoned sitter sometimes to this day forget to cover. The guide is great to have as it not only helps the sitter but also the homeowner ensure that all things have been covered prior to the sit commencing.
To find out more about Rebecca and her availability, visit her pet sitting profile page.