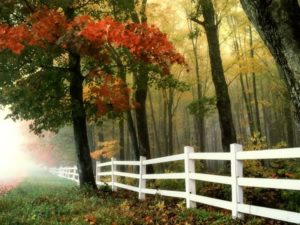 The weather is cooling, the leaves are falling and bursts of red, orange and brown make for fantastic photo opportunities at every turn.
It's Autumn in Australia and we've picked out some interesting places for you to visit, where the season is celebrated with activity, striking visual vibrancy and foodie delights.
NSW
Lying at the foot of an extinct volcano, Orange is a great place to unwind and relax and immerse yourself in the region's sumptuous food and wine. The fertile volcanic soils produce stone fruits to olives, fungi and grapes. Take a walk through the Orange Botanic al Gardens or the city's Heritage trail to get to know the history of the area, or visit the limestone caves of Borenore Karst Conservation Reserve to see one of Australia's first gold mines, which lies just beyond the border of Orange.
For those with an interest in photography, Bowral in the Southern Highlands  is only about 90 minutes from Sydney. It  will give you some striking colours and context.  The town's English style and landscape was brought about in the late 1800s when Sydney's elite began visiting the township as a rural retreat and bringing along with them deciduous trees. Many visitors to the area enjoy passing through the Moidart gardens, which has acres of mature trees including red oaks, golden elms, plane trees, copper beech and tulip trees, all of which change dramatically during autumn.
South Australia
Approximately 120km north of Adelaide, wine lovers will enjoy a trip to the Clare Valley – one of Australia's oldest wine regions – with more than 40 wineries scattered between the towns of Auburn and Clare. There are festivals and events throughout the year in the Clare Valley. In May, the annual Clare Valley Gourmet Weekend will allow you to be among the first to sample the year's vintage before the winemaking process is complete.
Northern Territory
For those after a little adventure, just a two hour drive from Darwin, Litchfield National Park offers an array of activity with lush woodlands, spectacular waterfalls, sparkling plunge pools and tall termite mounds. There are so many natural attractions to enjoy in the area, including Buley Rockhole and the dramatic Florence, Tolmer and Wangi falls. Enjoy a scenic walk or relax with a swim pandanus-lined pools.
Tasmania
Tasmania's Mount Field National Park will delight leaf -lovers with many species of beeches, elms and oaks providing spectacular autumn changes. Interestingly, the fagus, or tanglefoot, is the only native deciduous tree in Australia and it grows in only two places: Mount Field National Park, about 70 kilometres from Hobart, and Cradle Mountain-Lake St Clair National Park. So if you're a dedicated nature lover, then you may decide to seek out this low-growing, extremely hardy shrub on the Tarn Shelf, high above the mountain ash and highland gums on a walk to see its tiny ribbed leaves turn yellow in April.
Victoria
For the ultimate autumn trail, travel the trail from Melbourne to Wangaratta, to Bright, to Omeo and onto Bairnsdale. There are lakes, beaches and national parks to enjoy and a stop in Milawa for cheeses and Rutherglen for wine will delight any foodie. Through Glenrowan and Beechworth you can connect to the gold-rush history and the legend of Ned Kelly.
Alfred Nicholas Memorial Gardens offers an array of striking colours. In autumn, the foliage of the maples and beeches changes, but the most spectacular sight is down by the lake where the golden ginkgos create a photo worthy view.
Canberra
Canberra itself is a great place with visit during autumn, to soak up the local delicacies at cafes, restaurants and markets. Or the array of events and exhibitions will keep you entertained throughout your stay. You can also walk around Lake Burley Griffin, or see it from a different perspective by hiring a paddle board or a kayak and taking to the water.
Easily accessible from Canberra, the Murrumbidgee River Corridor provides amazing short walks where birdlife is sure to accompany you and picnic opportunities for a wonderful day out. The new 145km Centenary Trail is also one of Canberra's attractions that will help you experience the local Indigenous history, nature, as well as great views of the city.
Western Australia
Western Australia's Margaret River Region's mild and mostly sunny weather means that you can enjoy the outdoors on a picnic or hike or even for a dip at the beach at Smiths or Meelup beaches. Autumn in the region gives you the chance to enjoy a scenic drive through the Boranup Forest or descend underground caves or take in some wine tasting at one of the area's wineries.
Rottnest Island is extra special during autumn when the time of year produces ideal conditions for snorkelling. Keen snorkelers say that the ocean surrounding Rottnest Island actually gets a little bit warmer as the weather begins to cool down due to the arrival of the Leeuwin Current which flows down from the tropics carrying warm water, and along with it coral spawn and tropical fish larvae.

Queensland
Cairns is undoubtedly the place to be as the weather begins to cool. Scuba diving on the Great Barrier Reef is a popular activity. Or visiting the amazing Daintree Rainforest or wonders of the Atherton Tablelands may take your fancy.
Inland you can head off on the Savannah Way, which stretches from Cairns to the Northern Territory border, visit Australia's widest waterfalls,  Millstream Falls, and lose yourself in the caves of Undara Volcanic National Park, the world's longest lava system.