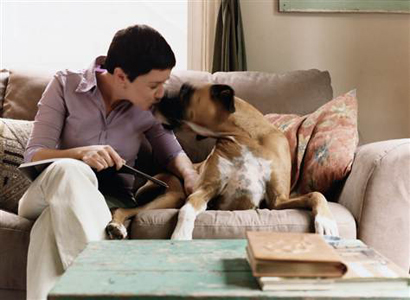 Knowing the options available to you for pet care and minding is the key to saving money.
Whether you have to travel unexpectedly or if you choose to holiday without your pet, engaging a house and pet sitter while you're away presents a whole host of benefits for, not only your pet, but your wallet.
According to the Australian Companion Animal Council, Australians spend more than $374 million on boarding and minding for their dogs and around $98 million for their cats each year.
With the average minimum cost for boarding kennels being around $30 per pet, per night and this cost increasing to $80 or more for luxury standard, the bills quickly start to stack up.
For young families, who typically have more than one pet, pet care costs can accumulate to around $100 a day.
House and pet sitters are a more affordable and low-fuss alternative for pet care. Home and pet owners can register their property and pet care requirements for FREE on Mindahome.com.au
They can also search for a house sitter on the website for free to review suitable carers for their pet. Many house and pet sitters have police checks and experience with animals, so you know your home and special friend are in good hands.
Using a house and pet sitter is a win, win situation. Home and pet owners get the benefit of personalised care of their homes and furry friends and the sitters get to experience living in your local area for the time you're away.
Here is a list of just some of the benefits of engaging a house and pet sitter:
Savings: This is a major benefit for home and pet owners. It's FREE to register your pet and home care requirements on www.mindahome.com.au, so it makes financial sense to register and review some of the house sitters available. Not only can house and pet sitters offer pet care but they can also tend to gardens and general home upkeep while you're away – saving you the costs of gardeners, especially for extended periods away.
Companionship for your pets: House and pet sitters can offer your pet personalised care. Unlike a 'water and feed' pet minder who only turns up once or a few times a day, house and pet sitters live and develop a relationship with your pet. House and pet sitters can care for as many pets as you request – even the more unusual!
Stress free care: Leaving your pet in their own home environment with a house and pet sitter means less stress in moving them to a boarding facility.
Focussed pet care: Should your pet require medication on a regular basis, house and pet sitters can focus their attention on your pet's needs to ensure they are treated. This focussed attention is especially important for elderly, ill or more fragile pets that wouldn't get such special attention in a boarding facility.
Home security: Many home insurance companies prefer that someone is making the house look 'lived in' while you are away. Especially if you're planning a long trip away, house and pet sitters can keep your home safe and secure.
Check out how it works and start taking advantage of the benefits of using a house and pet sitter the next time your travel.