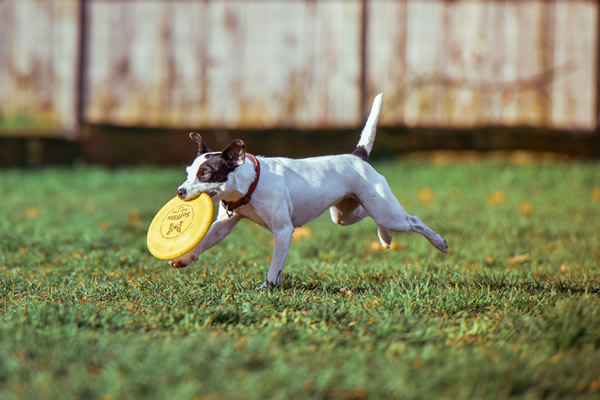 We speak with veterinarian and ambassador for PAW by Blackmores, Dr Katrina Warren, about her favourite spots and expert tips.
We all know how beneficial regular exercise can be for us both physically and mentally, and the same can be said for dogs of all ages too. Dr Katrina Warren shares her top 5 favourite Sydney spots to take your four-legged friend for some exercise:
Centennial Park
This is one of my favourite places to go with Riley as it has some great off-leash tracks. These are not only great fun for him to explore, but are easier on his paws than bitumen or concrete pavements. For those not comfortable with off-leash walks just yet, there are plenty of options in this 158hectare area! Why not pack a picnic, take the kids down and make it a fun family day out!
Rowland Reserve, Bayview
This fully off-leash park is paradise for all pooches, no matter their interest. There is a great grassy area, sandy beach and shallow swimming area making it perfect for dogs of all shapes, sizes and ages. There is even a dog-friendly café to relax with a coffee – and probably a very tired pooch!  Remember, paralysis ticks are prevalent in this area, so use a preventative and search your dog daily.
Camperdown Memorial Rest Park
A popular spot among the Inner-Westies, this park is officially off-leash between 5pm and 9am daylight savings time and 4pm and 9am non-daylight savings time on weekends, but don't let that stop you having some great fun with your four-legged friend at any time of the day. It's a nice flat grassy area, making it ideal for older dogs, and there are always plenty of other dogs around for social dogs, or owners that are looking to safely socialise their dog.
Sirius Cove, Mosman  
This is an off-leash area all day on weekdays, and before 9am and after 4pm on weekends and public holidays. With plenty of shade and a great beach for a splash and a dip, this makes it an idea place to bring your pooch during the warmer months.
Dan Mahoney Reserve, North Parramatta
This area is more than three hectares of off-leash flat terrain, making it a perfect running spot for you and your four-legged training buddy! Big shady tree surround the area, providing shade (and sniffs) for your pooch too!
A word of warning on heatstroke
Dogs can overheat after too much exercise and over exertion, which can result in heatstroke – a very serious condition caused by a marked elevation in body temperature.
Brachycephalic breeds ( those with short muzzles) such as bulldogs, pugs and staffys have short airways and develop heatstroke more easily than other breeds. Special care must be taken to prevent these dogs from overheating during summer.
What to look out for
Elevated body temperature – greater than 39.5°C
Panting persistently and quickly
Looking stressed and agitated
Vomiting and diarrhoea
Weakness and muscle tremors
Bluish purple or bright red gums
Collapsing or having a seizure
What Should You Do?
If you suspect that your dog has suffered heatstroke and has an elevated temperature you should try to cool it down and take it to your veterinarian as soon as possible.
Offer them cool water
Wet their coat with a cool shower or hose (not ice)
Place a cool wet towel over them for transport
Turn on car's air conditioning to maximum
How to avoid it
Exercise in morning or evening – Avoid exercising your dog during the heat of the day when the sun is beating down. Be aware that the pavements can also get extremely hot and burn your pet's feet.
About Dr Katrina Warren
Dr Katrina Warren is a veterinarian and best known for her work in the media as a presenter and spokesperson. She has worked across all media platforms, including TV, radio, print and online. She has also authored four books, hosted many events and most recently created an online education program for dog owners. Her real passion is helping pet owners enhance the special bond that is shared with pets. She is a proud ambassador of PAW by Blackmores. You can catch Katrina Warren via Facebook, Twitter, Instagram, her YouTube channel. Visit www.drkatrina.com for more information.