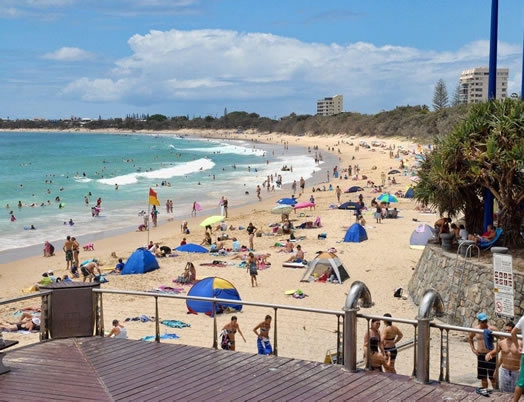 Many Aussies are realising just how cost effective it is to travel as a house and pet sitter, as many recent articles have mentioned.
Rent free holiday accommodation during peak season is unique to a house and pet sitting holiday and it means more cash in your pocket to have more fun on your holiday.
For David and Glenys, staying on the Sunshine Coast instead of experiencing a cold winter back home, was the ideal way to spend their holiday. Mooloolaba was another of their favourite house and pet sitting holiday destinations where they spent many days swimming in the surf and enjoying the shops and restaurants.
Another of their house and pet sitting posts found them just five minutes from the iconic Australia Zoo where they spent a full day touring the sights.
House and pet sits, of course, can involve caring for animals and gardens, but no other holiday can give you the chance to live like a local in highly sought after holiday spots for nix.
House and pet sitting is a unique way to holiday that offers definite financial benefits, as well the chance to stay in different places, meet new people and animals and make great, lasting friends.
Read David and Glenys's full story below:
We are just about finished our first house sit which we got through Mindahome. We were lucky enough to have three and a half months sit at Beerwah on the Sunshine Coast. The area is absolutely beautiful and is very central to everywhere on the Sunshine Coast. We have visited many lovely places during our stay, such as Marcoola. Noosa, Noosaville, Coolum, Malaney, Montville, Yandina, Buderim, Maroochedore, Kawana Waters. We fell in love with Mooloolaba and have spent many days there swimming in the surf. But to my wife's delight she loved the shops and restaurants. We have also had the pleasure of meeting up with friends that are also staying up here also. We have also caught up with my wife's sister and husband who are caravaning in the area. They also spent a week staying with us and pulled their caravan in the yard. This was all done with the owners permission.
By the way where we are sitting is just five minutes away from Australia Zoo. We spent a full day there and it is a place we would recommend everyone to see when they are in the area.
It all sounds like beer and skittles, but where we are house sitting is on three and a half acres, with beautiful lawns and gardens. Both my wife and myself a keen gardeners and have maintained and nurtured the gardens. Luckily there is a ride on mower which saves a lot of hard work. There is also one gorgeous little shitzyu dog called Eddy we look after. He has turned into our best new mate and we have bonded really well. I would dearly love to take him home with us. Eddy loves to go Tatars in the car and we take him where ever possible. My wife looks after and feeds five chooks, which supply us with an average of six eggs a day. Being too many eggs for us I have got to know many of the neighbours by supplying them eggs.
By doing what we have done we have missed out on the cold winters in Albury and enjoyed the warm weather on The Sunshine Coast.
We have been recommending Mindahome to many people as they cannot believe how lucky we have been. We read your daily updates and are very much looking forward to our next house sit
So if there is any body out there looking for a couple of reliable house sitters on The Sunshine Coast for next winter give us a call. We live in a retirement village and just have to shut the doors and can be anywhere on the coast within three days.
Many thanks to Mindahome
Cheers David and Glenys
See David and Glenys's Mindahome profile page here