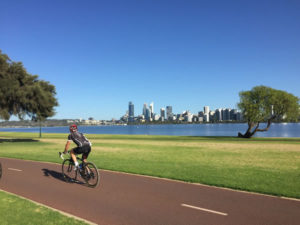 House and pet sitting can take you to some amazing places around the country and Perth in Western Australia is definitely one not to be missed. With striking natural beauty, engaging history and a vibrant culture, Perth is a great place to explore on foot or by sea. So while you're living like a local as a house and pet sitter, take some time to enjoy some of what Perth and its surrounds have to offer.
Natural Beauty
If you're a nature lover and like to let your feet lead the way, Perth and its surrounding regions have a myriad of walks, parks, beaches and waterfalls to enjoy.
One of the most spectacular displays of watery grandeur is the Lesmurdie Falls, located in the hills east of Perth in Lesmurdie Falls National Park. There's a moderate track to help you explore and get up close to the lush vegetation and landscape.
Spreading over 400 hectares, Kings Park and Botanic Garden is one of the largest inner-city parks in the world. The park offers sweeping views of Perth and it's skyline and is also a great spot for a picnic.
A popular parkland for many visitors to Perth is Lake Monger – home to the famous black swan and many other water birds. A special breeding island has been created to nurture the native flora and fauna of the area. An icon for Western Australia, the black swan features on the State flag and the city's major river system was also named after this water bird.
Community Living
Do a spot of 'people watching' along the Swan River foreshore where you will see many Perth locals walking, cycling, sailing or simply enjoying a picnic. Take in the cityscape from wonderful vantage points and admire the beauty of the city.
Housed in an historic and heritage-listed building, the Freemantle Markets are renowned by locals and tourists alike to be among the best markets in Western Australia. Enjoy browsing the local wares and produce of merchants or simply soak in the bohemian vibe.
Heritage and Culture
The Round House Precinct is the oldest surviving public building in Western Australia and offers an interesting insight into the history of Freemantle. Volunteers coordinate daily routines such as the signal station, fire time gun and drop the time ball every day at 1pm making it a worthwhile stop to learn more about the region.
A taste of vibrant culture, the Barrack Street Jetty will offer you an array of waterfront restaurants, cafes and bars in which to sit back and soak in the atmosphere.
But if you're after something a little more historic and a little more haunting, then Perth's Old Goal  in the Perth Cultural Precinct will not disappoint. The building itself has been beautifully restored and is considered a fine example of Western Australia's colonial architecture. Read about the prisoners of the goal and their hardships, the executions that took place and the old style dental surgery and pharmacy.
So if Perth is on your map for a house and pet sit, explore more of the city's free attractions and immerse yourself in all the city and surrounds has to offer.